Tanuki Talk
Gonna to be a Resolution
2021-01-12
Hello all and Happy New Year!
We hope you are all well and that you all had a nice New Year's break.
Today we want to offer you a new resource to use made from poor discarded data from our recent Winter free set. First a little background.
When we make a set of So Says Japan we often collect a lot more information and results than we need. This is because sometimes we do not get very interesting answers - it just doesn't generate much interesting debate during a game - or because some questions just do not work for the game. Sometimes, however, we just get way too wide a variety of answers to fit on a poker sized card. The way the game is designed means that a huge array of answers skews the top five results and makes it very hard to guess those top five answers. This is a shame because sometimes that huge variety of answers is interesting.
This resource is made from such data. When we asked hundreds of Japanese people what their New Year's resolutions were for 2021 we got a huge range of answers. This resource contains the first 100 answers. Some are pretty unsurprising but there are some really interesting and unique answers for you and your students to discuss. Download by clicking on the picture below. Thanks and enjoy!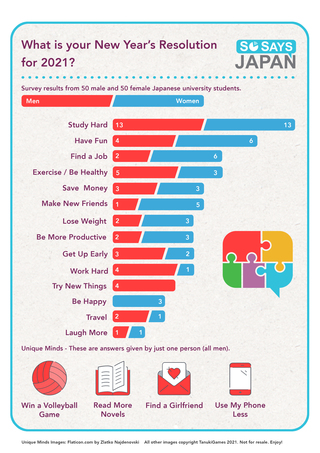 Stay up to date on new free resources and new games by following us on Twitter and Instagram. Our resolution this year is to give you even more content like this. Don't miss it!
---
Don't Pick a Fight Between Prefectures!
Hello everyone,
On twitter this week @kimuti_x posted this list:
A list of biases people have towards other prefectures. Sometimes funny, sometimes insulting sometimes (I am looking at you Saga) utterly baffling. The information comes from interviews with over 300 people.
I though this fun so here are all the asinine assumptions translated into English (to the best of my ability). I have taken some creative license with some of the translations and some (Saga!) I may still need some help understanding. I think they would make a fun discussion starter in a class or with friends!
---
So Says Japan: Christmas and New Years (Winter) 2020!
Hello everyone,
Well, this has become an annual tradition. Here is our So Says Japan set for Winter 2020. These seasonal sets are fun to put together and give to you because, while most things stay the same, a few things do change from year to year.
Obviously, this year more people said they would spending New Year's with family. That is hardly the biggest surprise.
However, a big change is the rise of Backnumber! Moving up another place from last year in the "favorite Christmas song" category. Will it be the number one Christmas song in Japan in two years time? More importantly, will Mariah Carey be losing her top spot to Last Christmas? Probably because of the Wham getting help from Ariana Grande's cover version of their classic sweater wearing ballad!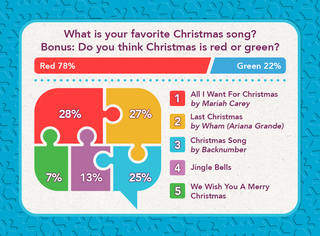 Anyway, here are the cards in both English and Japanese, worksheets and a vocabulary list. If you want to see lasts year's cards they are here.
Lastly, we have some big announcements for next year coming. See you in January at the start of, a hopefully, better new year!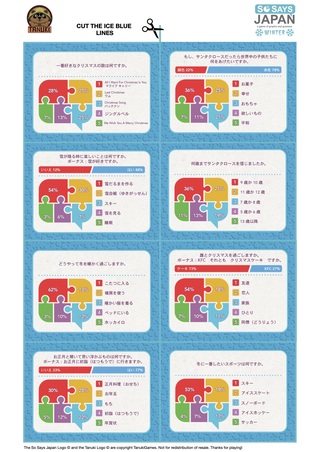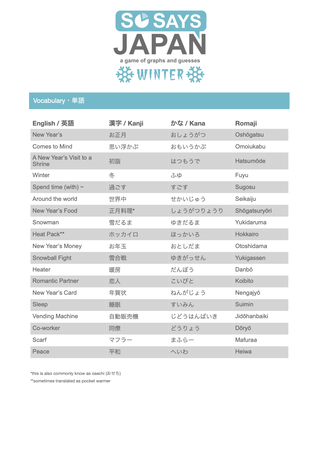 Rules are here.
Board to play the game with here.
How to play video is on youTube.
---
Thank You JALT and So Says Japan: Fall
Hello everyone,
Of course we are sad not to be at JALT this year meeting and talking with everyone, but this post is a thank you to JALT for awarding Tanuki Games's Jay Underwood and Stephen Case a best of JALT award! We are extermely proud to be awarded this by JALT who have been nothing but supportive since we founded Tanuki Games 4 years ago. Thank you!
We also have a quick new So Says Japan for you. A bit late in the season but the leaves are still all brown and the weather is at a "do I need a jacket" level so we present to you So Says Japan: Fall / Autumn. Eight new game/ discussion cards for you to use for free!
Download here:
Thank you! Here is us with our lovely awards!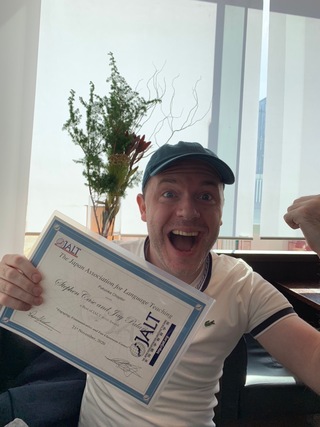 ---
So Says Japan: Summer!
by
Stephen
Hello everyone,
We have a new free download version of So Says Japan with 10 new cards containing 14 new questions on all things summer.
We are very excited that this is the first version to be published in English and Japanese and this will apply to all free sets going forward. We also have conversation practice papers in both English and Japanese and a full vocabulary list. Be sure to check them out.
We have been very busy over the past few months and there will be six new free sets coming every few weeks until the end of the year and some new large sets available for purchase in the fall. Thanks for playing!
Download the cards by clicking on the images below:
English Cards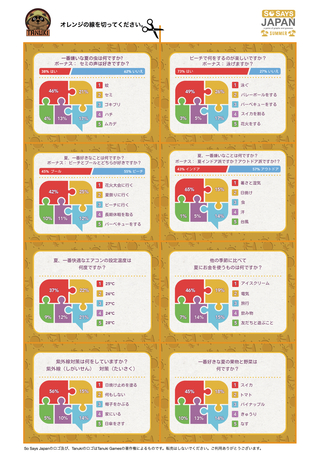 日本語のカード
English Questions
日本語の質問
Vocabulary / 単語
The rules, play mat and other free versions of So Says Japan are avalible here:
https://www.tanukigames.org/free.php
Photo for the webbanner is by
Ylanite Koppens
from
Pexels
All the graphic design work for So Says Japan is by Taylor Ruddle. Check him out
here.
---
MORE >>